ANSI ISEA Puncture Levels
ANSI/ISEA 105 PUNCTURE LEVELS
---
21% of all injuries that required days away from work in 2020 were to the hands and arms
ANSI/ISEA 105 Puncture testing identifies the performance characteristics of hand and arm protection products against punctures from pointed objects. There is a separate test (not covered in this guide) for hypodermic needle testing. This puncture testing standard measures how quickly a hole is formed, in PPE products such as gloves and sleeves, when a pointed object attempts to puncture the surface. The result is classified on levels 1-5.

ANSI/ISEA 105-2023 New Icon Designation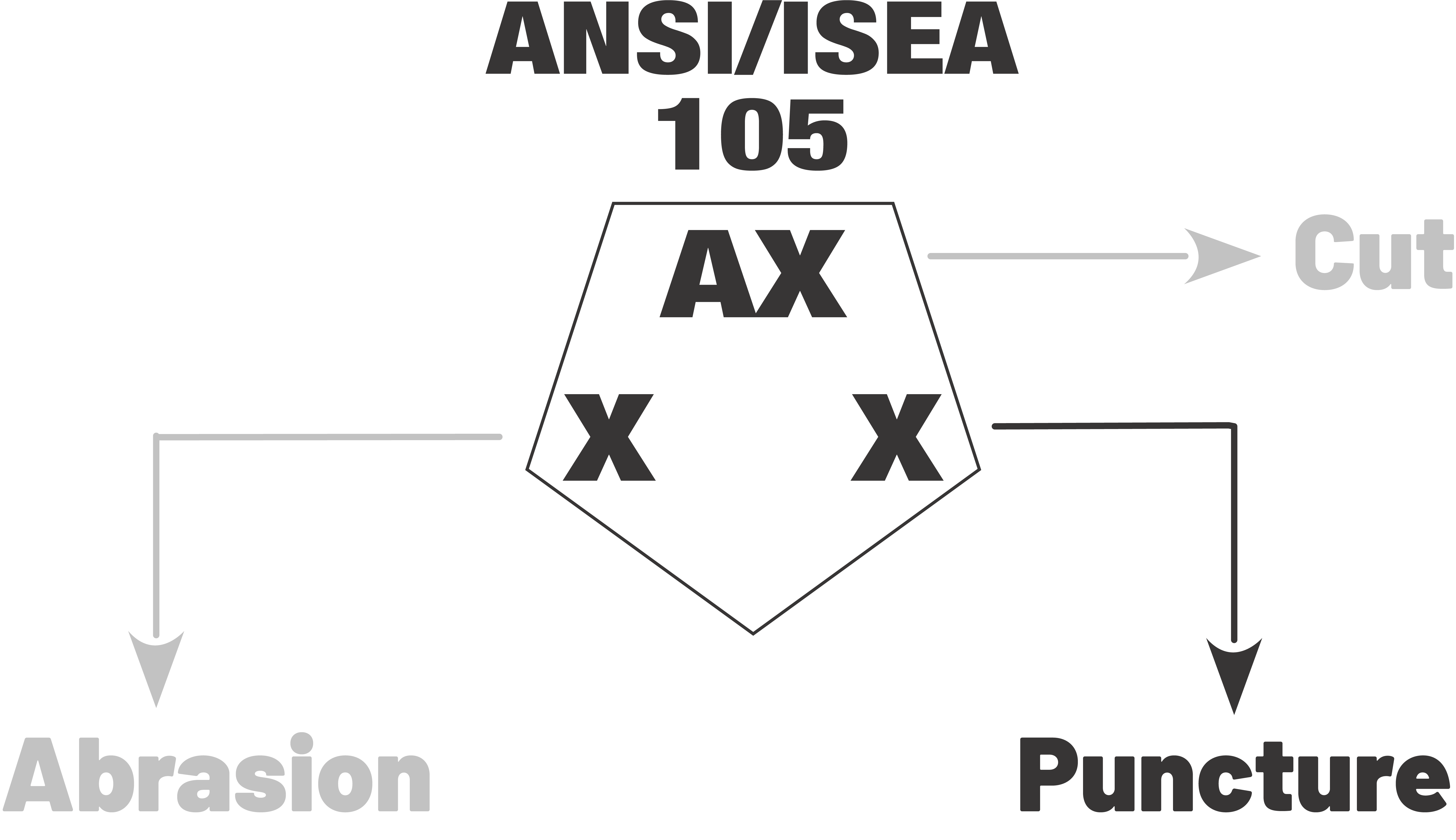 ---
Testing Results
Both the ANSI and EN standards for puncture resistance use the same test, in which a steel stylus punctures a test specimen held on a retaining device. The stylus has a tip with a diameter of 1 mm, and resembles a nail or pencil more than it does a hypodermic needle. The force on the stylus at the moment of puncture determines the puncture level. Although the test is the same for both ANSI and EN standards, each standard uses different weights to determine puncture level.
ANSI Puncture Levels

| | |
| --- | --- |
| ANSI Puncture | HAZARDS |
| Level 1 | General Maintenance, General Purpose, Manufacturing, Small Parts Handling |
| Level 2 | Automotive, Construction, General Maintenance, General Purpose, Landscaping, Manufacturing, Material Handling, Small Parts Handling, Warehousing |
| Level 3 | Landscaping, Brickwork, Construction, Assembly, Warehouse, Oil and Gas, Construction, Mining, Petrochemical, Utilities |
| Level 4 | Aerospace Industry, Assembly, Automotive, Carpentry, Construction, Demolition, General Maintenance, Glass Handling, Handling Oily Components, HVAC, Infrastructure Maintenance, Machine Operation, Maintenance, Manufacturing, Material Handling, Metal Fabrication, Parts Handling, Recycling, Roofing, Small Parts Assembly, Steel Framing, Utilities |
| Level 5 | Recycling, Cable, Construction, Demolition, Forestry, Lumber, Rebar Handling, Barbed Wire, Waste Management |
---
Puncture Testing Process
A pointed probe similar to a ballpoint pen is fitted into the machine at a 90° angle
The material to be tested is positioned and secured between two metal plates
The probe is lowered, penetrating the test fabric at a speed of 100mm/min
Results are reported in Newtons